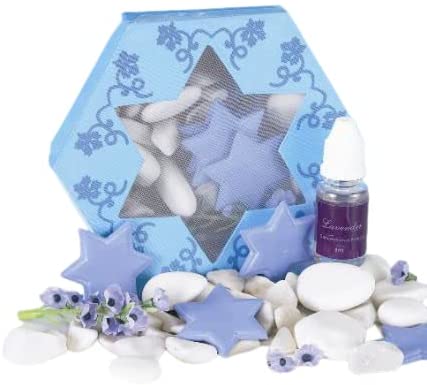 (D) Judaica Lavender Aroma Diffuser Set with Oil Scents 'Stars of David' 3 Sets
Regular price $66.99 Sale
Help keep the traditions of the Jewish family intact by giving a Jewish present from Israel. This is also a great Jewish ritual item that will help establish a good Jewish home. These are also great decorations to create a warm home produced by high-quality manufacturers.
Dimension: 5" x 5".
Includes: 3 Sets
Place A Drop Or Two Of French Lavender On The Porcelain Stars Of David And Enjoy The Fresh Clean Scent Throughout Your Environment.
Each Gift Set Includes A Vial Of Pure French Lavender, A Collection Of White Stones, And Soft Blue Oil Absorbing Porcelain Stars Of David.
A Net Covered Hexagon Gift Box With A Star Of David Window Reveals The Attractive Contents Inside.